About Package Research Laboratory
PRL is the largest ISPM 15 / IPPC inspecting agency in the United States.
We conduct heat treatment and fumigation inspections of wood processing companies under ALSC and WPM regulations.
Our knowledgeable staff is always ready to help you with your questions of local, national and international package phytosanitary regulations. On this site you will find answers to many of your ISPM 15 issues, but feel free to contact us if you require further information.
If you need to be ISPM 15 certified call us at (973) 627-4405, email us at info@package-testing.com or use our contact form.
WOOD TRACKER & CUSTOMER CENTER
Exclusive to PRL customers, the Wood Tracker and Customer Center is a FREE online service that makes WPM compliance simpler.
LEARN MORE
Free Bark Measurement Card
Get your free wallet size card to help measure bark and make sure you are in compliance with the WPM.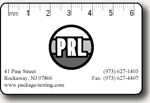 LEARN MORE
Site Overview